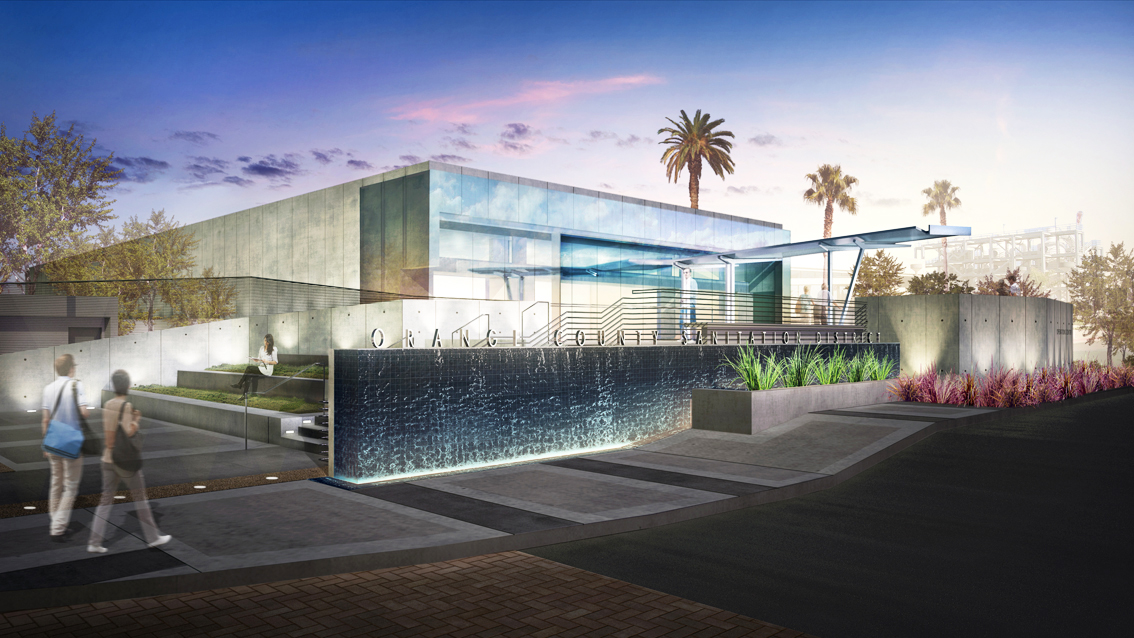 Fremer Architects
Projects
Orange County
Sanitation District
Operations Center & Building Renovation
The Orange County Sanitation District sought a new face for their main headworks facility. New exterior gathering space provides a starting point for Plant tours, as well as a welcoming receiving area for District Trustees and engineers from OCSD's other plant campuses.
Design is sensitive to existing siting conditions. The south-facing Entry Plaza required protection from coastal heat and sunlight to accommodate sensitive computer and server equipment at the SCADA counter located just inside the new façade – computers running 24/7 to monitor water treatment activities for over 200 million gallons of water per day throughout the entire campus. A new canopy structure provides shade, at the same time highlighting the building entry. Screening elements allow for varying levels of privacy such that Plant activities are not in view of Operations Center visitors.
Redesign of the existing entry façade required adapting new exterior envelope assemblies to existing construction. The Plant's location adjacent to a wetland habitat for protected bird species also required special consideration of canopy and glazing elements so as not to adversely affect migration patterns.
Client: Orange County Sanitation District
Typology: Industrial
Size M2/FT2: 510/5,500
Status: Concept